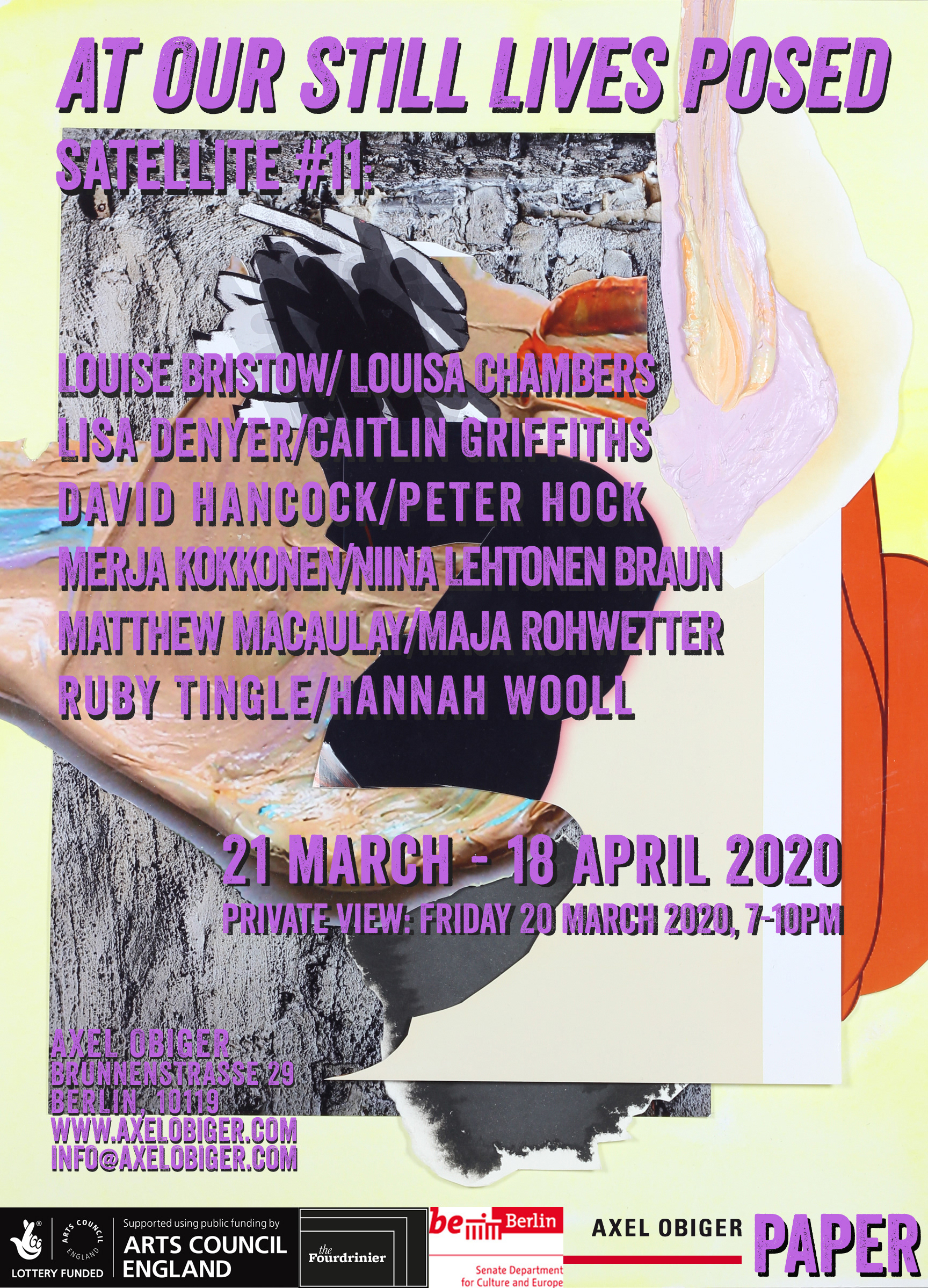 Axel Obiger, working in collaboration with PAPER will draw together the practices of 12 artists working in both Berlin and the United Kingdom. Each artist attempts to disrupt the notion of still life, and bring new life to this genre of art. 


In the heyday of Dutch still lives, craftsmanship was crucial. Objects were arranged with great effect in lights and shadows, creating compositional tension. Each object was selected for its symbolic meaning, highlighted through the drama of the composition. Observers marvelled at the trompe l'oeil effect, freezing the objects in time; a study of death. 

Peter Hock

's charcoal drawings make use of these qualities from still life painting, taking them to extremes of chiaroscuro. Light falls on an object rendered in monochrome, depicted by Hock as "abstract realism". 
David Hancock
's paintings fluctuate between the subject and object. Painting meticulously from a still life set up, the objects within the still life contain their own narrative, and as characters they enact the greek tragedies whilst simultaneously referencing historical works of art. Similarly for
Louise Bristow
, one of the pleasures of making is the juxtaposition of objects that in reality would not be found in the same time or space. She accentuates the mismatch of scale and a collision of visual languages in the set-ups: she will place a realistic three-dimensional architectural model next to a flat image of a landscape, an abstract geometric form and a scrap of coloured paper. To her everything is simply 'material' and there is a democracy to how she treats everything.

Caitlin Griffiths explores the relationship between reality and individual identity, drawing on photography's means to observe and document place, people and performance. Her still lives pairing an unopened box and with an open box references Schrödinger's Cat thought experiment. Reality is only summoned into existence through the act of observing it. 

Hannah Wooll

employs found images from books and objects found in charity shops. She repurposes these items with her cast of lost girls.

Niina Lehtonen Braun

 uses collaged items: alcohol bottles, flowers, clocks, cakes, coffee-cups, cigarettes, laundry etc. These objects have a certain domestic resonance. They suggest the passing of the time? The passing of a life? Her still lives are an opportunity to reflect on death; a momento mori.

Lisa Denyer

creates mixed-media paintings that toy with the idea of their function as object, shifting between the two-dimensional and three-dimensional, they are neither wholly painting or sculpture. 

Louisa Chambers

' recent work responds to the idiosyncrasies in architecture (ornamentation, pattern, shape, surface and structure). Appropriated patterns from walls, fences, floors are translated onto architectural paper and transfigured into a temporary three-dimensional structure. These forms are recorded from observation becoming an abstracted still life. She is interested in the patterned tessellations that are on the surface of these forms and when manipulated create other spaces, angles and areas of illusion. 

Ruby Tingle

's recent works blur the line between object and image; the imagined textures of her paper cutouts inform a new three dimensional situation in which the collages now exist-  their landscapes flitting between pictorial space and fragments of mythical skin. 
Maja Rohwetter
follows a structured conceptual approach to painting that includes the diffuse and the rational, questioning the variables in construction of a picture and representations of reality. As objects are arranged and composed in the classical still life, Rohwetter arranges the picture elements of her collages. The act of arranging and composing is essential and always visible, the picture is a snapshot of a temporary condition. A still.