In collaboration with a-space in Switzerland, PAPER presents Into the Deep Woods. Drawing inspiration from the interpretation of the forest as the unconscious, 10 artists and a poet have responded to this notion, creating within their works a narrative construct to explore the theory of the forest as a psychological space. The forest signifies the realm of the imagination, which, according to Lacan, is the psychic place, or phase, where the child projects its ideas of self in order to develop its own identity, sexuality, and gendered self. A recurrent theme in fairytales is the protagonist entering the forest. Through the ensuing narrative and their chilling encounters, they inevitably gain a sense of the changes in their lives, particularly from child to adult, and also a sense of morality.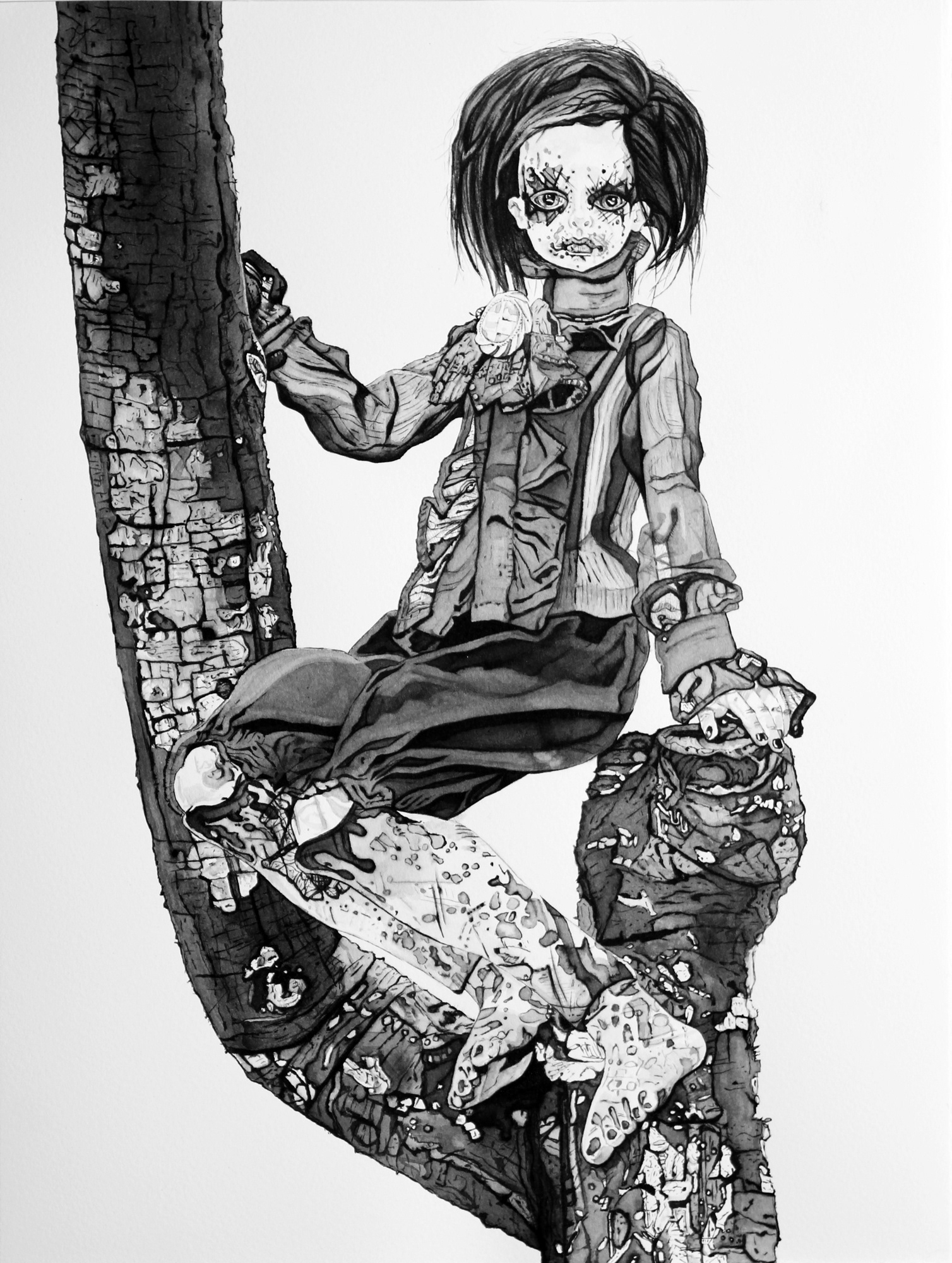 Pär Strömberg & Katie Metcalfe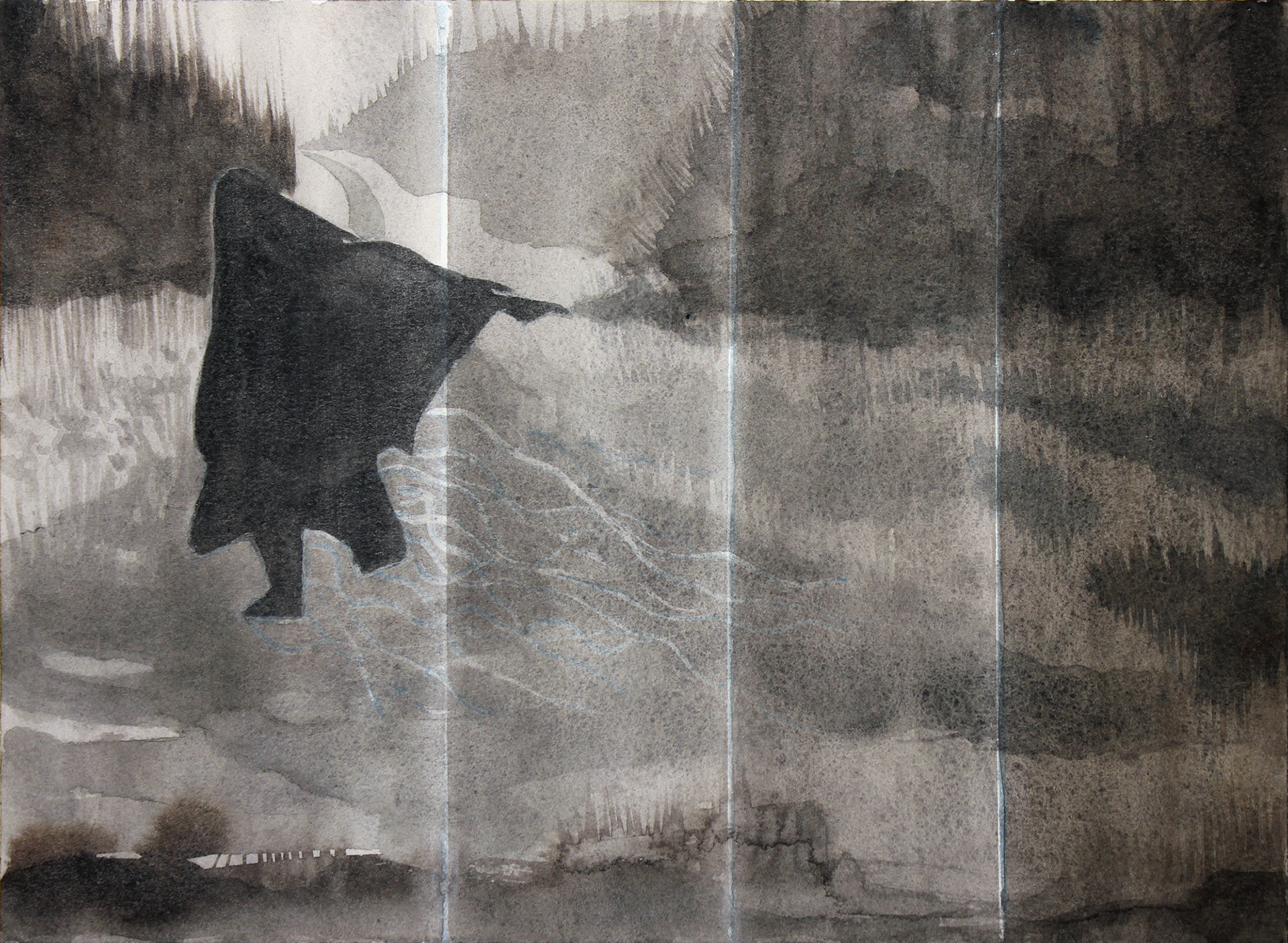 At The End Of The World
It is the end of the world and God is gone.
The sun rises black behind the trees.
Humanity falls quiet under its terrible gaze.
Death appears, to guide the living,
who beg for candles to illuminate their path.
Trees turn to ash, mountains fall, the sea boils dry.
Death shows the living the way to hell,
with nothing but a pale hand,
and a whisper, that they will be happy there,
for the light and the fire never go out.

Katie Melcalfe 2016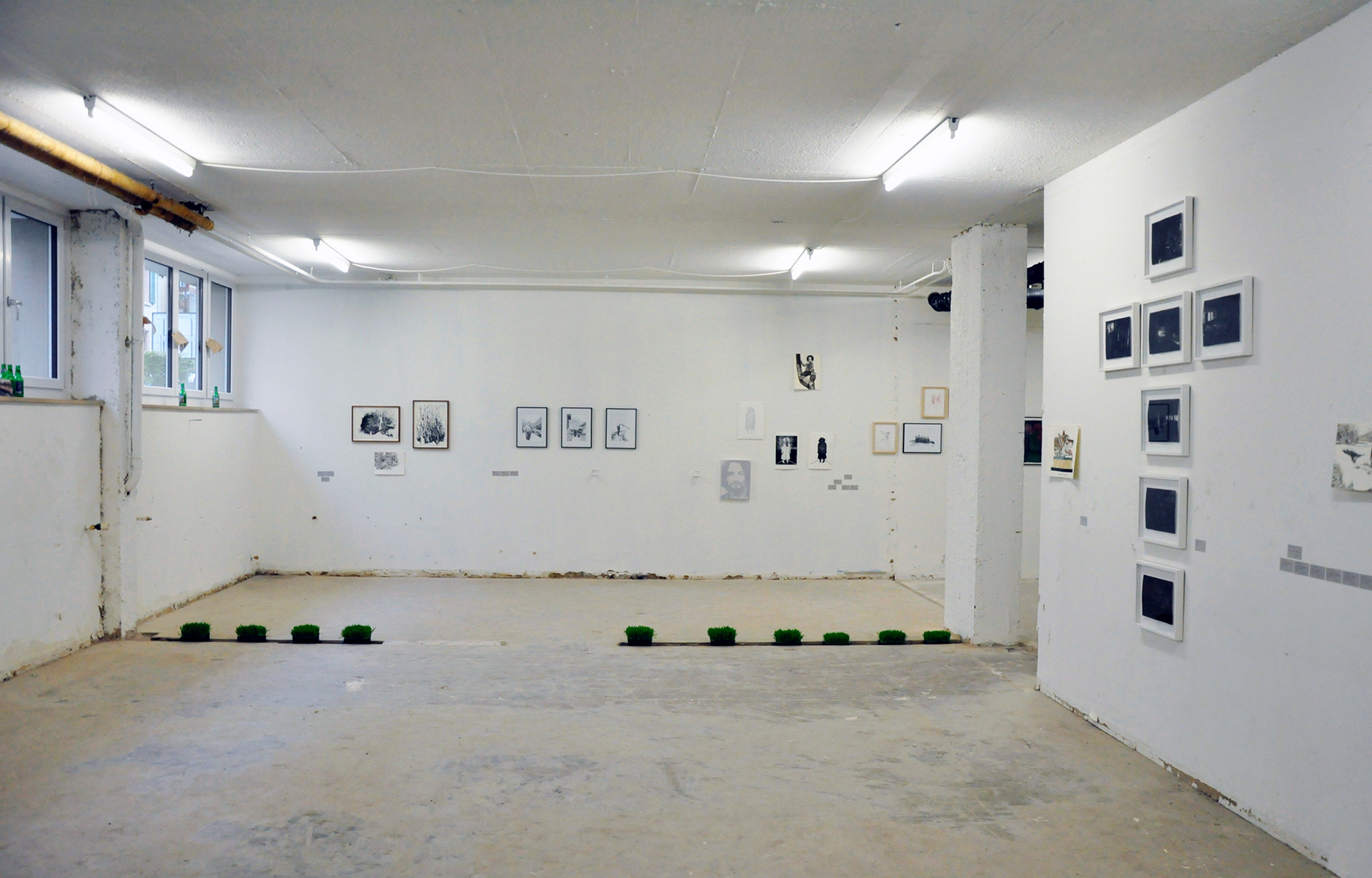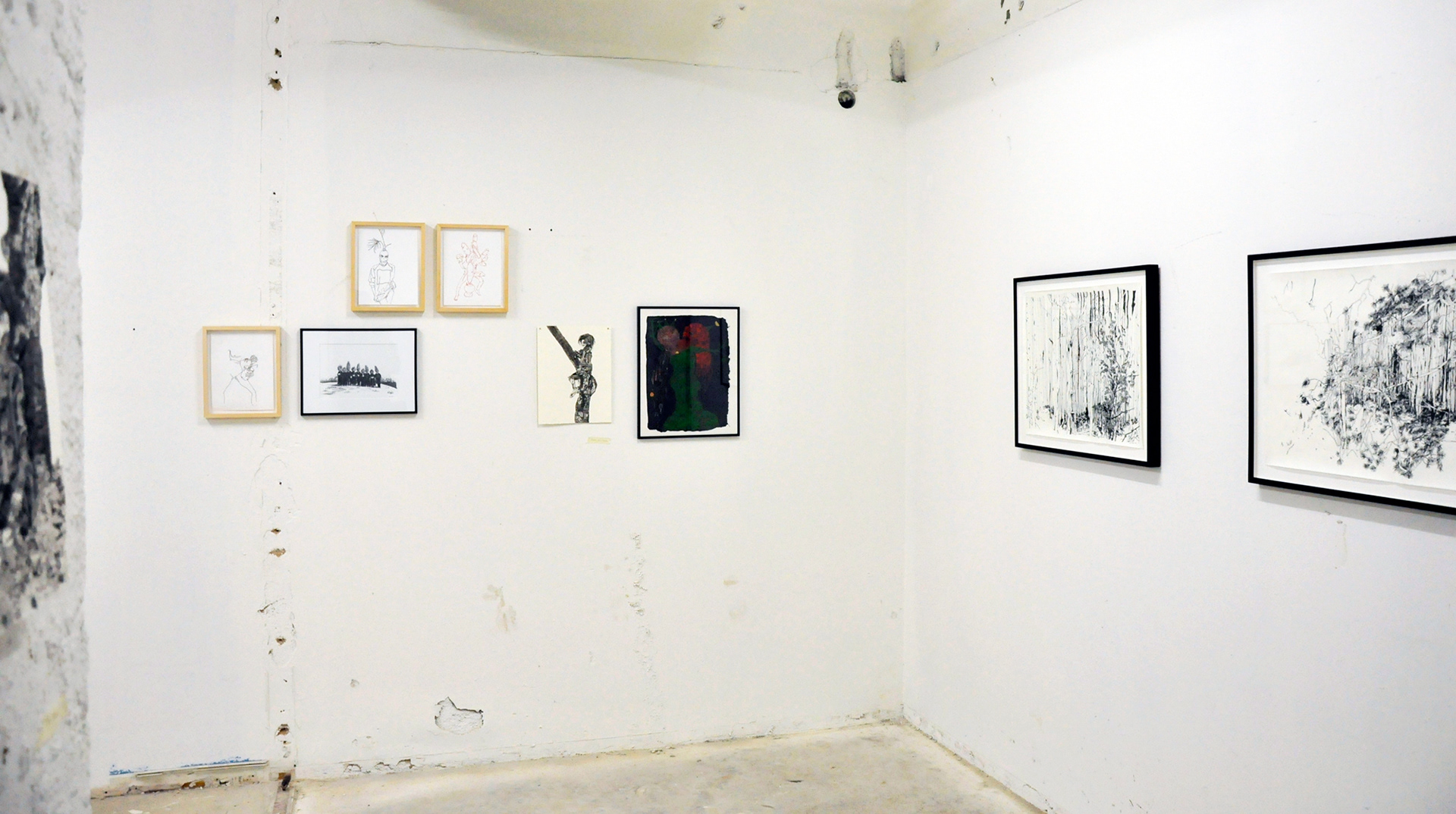 Adam Batchelor

graduated with a BA Hons in Illustration from Norwich University of the Arts in 2009, where he developed a bold graphic self initiated approach involving sculpture and model making. Galleries, clients, & publications include XL records, Lazarides, Lawrence King, The Wellcome Trust, Fool Magazine, Suhrkamp, Sneaker News, Another Escape, Malibu Magazine, 1XRUN, Kogan Gallery, KultSG, Christian Aid & Adbusters.
Kaspar Bucher

(Born 1976 in Schliern, Switzerland), grew up in Berne. He studied Visual Arts at the University of Modern Arts Bern (HKB). He lives and works in Bern / Switzerland. Working in the fields of object art, installation, drawing and performance, Bucher's practice focuses on site-specific works. He has exhibited in Switzerland, Germany, Italy, Denmark, the Czech Republic and Russia and his work appears several important institutional collections.
David Hancock

graduated from Manchester Metropolitan University in 1996 and has been exhibiting widely since. He has appeared in a number of prominent exhibitions such as the John Moores 21, Young Masters and the BP Portrait Prize. He has had solo and group shows across the UK and Europe as well as New York, Los Angeles, Shanghai and Hong Kong. He recently completed a PhD at University of Salford. David's recent solo exhibitions include Wolverhampton Art Gallery, Touchstones, Rochdale, and 20-21 Visual Arts Centre in Scunthorpe. In 2015 he will have solo exhibitions at Ruskin Gallery, Cambridge and Howden Park, Livingston.
Louse Isbjørn

(1988), aka Marion Täschler, was born in Diepoldsau. Since 2013 she travels and works between Diepoldsau, Berlin and Zürich. She uses her trips as inspirations for her drawings. She regularly exhibits with a-space.
Jeffrey Knopf

 graduated from Leicester De Montfort university in 1994 with a BA (hons) in ceramics and glass. In his spare time he was a stencil cut graffiti artist.  In 1995 he designed and created a billboard for Fosters Ice street art project in London. Jeffrey was also the front man of the Manchester based situationist, rock art group The Black Curtain. Recent exhibitions include: Trait Noir open exhibitions 2014 & 2015, Fribourg, Switzerland, followed by a Solo Exhibition in 2015; Xylon Anniversary Show, Zurich, Switzerland. In March 2015, Knopf was voted in as a member of Xylon, the association of Swiss woodcut artists.  To date he is the only British member of this association. His prints are also in the archive of the Museum of British Folklore.
Roy Andres Hofer

(1976) was born in Basel, Switzerland. In 1997 he completed Master in Arts of Lithography, before continuing his studies at HGKZ Zürich from 2000-2. In 2012, Hofer founded ARTspaceSWITZERLAND offspace for contemporary Art Basel and Zürich. In 2015, he co-founder the Circle for artists, and in 2016, co-founded a-space gallery with Marina Lutz. Hofer organised CAMPBASEL art festival 2012, and in 2013, organised ONEsize artshow Basel. Hofer also works as a freelance graphic designer and visual artist.
Sharon Leahy-Clark

graduated from the Royal College of Art, MA Fine Art, Painting (2001); She has exhibited widely both nationally and internationally (including in Japan, Hong Kong, Berlin, New York and Australia) and has been the recipient of several awards including the Helen Chadwick Memorial Prize. Her work is held in several collections including British Airways and The Drawing Gallery. Selected solo and group exhibitions include: Oriel Davies Open (2014, 2010); Jerwood Drawing Prize (2013, 2008); Summer Exhibition Royal Academy of Arts (2013, 2009); Derwent Art Prize (2013); Sunday Times Watercolour Prize (2013); British Glass Biennale 2008; Celeste Painting Prize 2007 (finalist); FaithCAS Gallery, Osaka, Japan (2004); Mostyn Open 12, Oriel Mostyn, Wales (2002); Figuring Cezanne, Lethaby Gallery and Tate Britain, London (1996).
Marina Lutz

(1988) was born in the Romansh speaking area of Graubünden in the Swiss Alps. In 2012 she graduated with a Bachelor in Illustration Fiction from the University of Lucerne – Art and Design. Currently she is working on her Master degree in Fine Art. Since 2009 she has been working as a painter and political cartoonist. Marina Lutz is board member of the Swiss association of artists Visarte and co-founder of the artist run gallery a-space. In 2016 she won the culture award of the canton of Graubünden
Katie Metcalfe

is a professional writer, poet and blogger based in Sweden. Her creative work is influenced by Scandinavian culture, history and landscapes. Winter, the Arctic and obscure, dark subjects are also predominant themes in her work. Katie has performed her poetry at events across the UK, in Norway, Sweden and Canada. Her most recent poetry collection is entitled Dying Is Forbidden In Longyearbyen, and is a homage to the cold north. She is currently preparing her first solo poetry show - In The Northern Darkness : A Spoken Word Journey and blogging at Wyrd Words & Effigies and The Girl With Cold Hands. More information can be found at her website: www.katiemetcalfewriting.com
Tyrone Richards

(1988) born in Los Angeles. In 2011, Richards completed his Illustration and Fine Art degree at the Academy of Art University, San Francisco before moving to Switzerland to complete his studies of Fine Art at the School for Art and Design, Lucerne. Richards is a regular exhibitor with a-space.
Pär Strömberg

(Örebro 1972) work and live in Stockholm, Sweden and Amsterdam, The Netherlands. Graduated from Gerrit Rietveld Academie in Amsterdam 1996-1999 and from Royal Institute of Art in Stockholm 2011-2013 . Four time nominee for the Royal Dutch Painting Prize and winner of Wim Izaks paintings prize in the Netherlands and current holder of the Cecilia Frisendahls Lithography Grant from the Stockholm Lithography Museum. He has numerous of exhibitions across Europe and the USA and is represented by Ron Mandos Gallery in Amsterdam. Recent shows include Moderna Museet in Malmö, various art fairs across Europe and an upcoming show in NYC with LMAK Gallery (June 2016). His work is included in the following collections: Museum Het Domein Sittard (NL), Caldic Collectie Rotterdam (NL), Akzo Nobel Art Foundation Amsterdam (NL), Peter Drake Collection (NL), Hugo & Carla Brown Collection (NL), Örebro Läns Museum (S). Strömberg also teaches painting at the Örebro College of Art.