PAPER2 presents The Competition, a two-person exhibition that pitches the work of James Moore and Casper White in competition. The installation references the classic tale of painters competing against each other.

Pliny the Elder wrote about a myth surrounding a painting competition in ancient Greece, between Zeuxis and Parrhasius, which took place in the fourth century BCE. The two painters wanted to prove who was the best and each made their greatest painting for the competition. Zeuxis revealed his work first – within the painting were some grapes represented so realistically that a bird flew down and tried to eat the grapes, pecking at the surface of the work. They then moved to Parrhasius' studio to view his work, and on entering the room Zeuxis saw a panel shrouded with a curtain so he asked Zeuxis to lift the curtain so he could look at the image, only to discover that the curtain was itself the painting. Zeuxis acknowledged his defeat – he had tricked birds, while Parrhasuis had deceived a person and a fellow artist.
In the experimental installation at PAPER2, both artists will paint a curtain, on which will be placed the opposing artist's work. The disruption of each curtain painting through the placement of a small work on top of the other persons creates a disturbance. It interrupts any straightforward illusionistic effects in the works, and draws attention to painting being a collaborative activity, even in cases of deeply individualistic practice – painting is part of an ocean of practitioners.
The space in PAPER2 will be illuminated solely by candlelight, which refers to the lighting conditions that artworks would have been viewed during the original competition. Both artists use painting in a way that is entwined with new technologies – virtual reality, digital image manipulation, projection, and therefore, a return to subject matters from classical era's is interesting for both.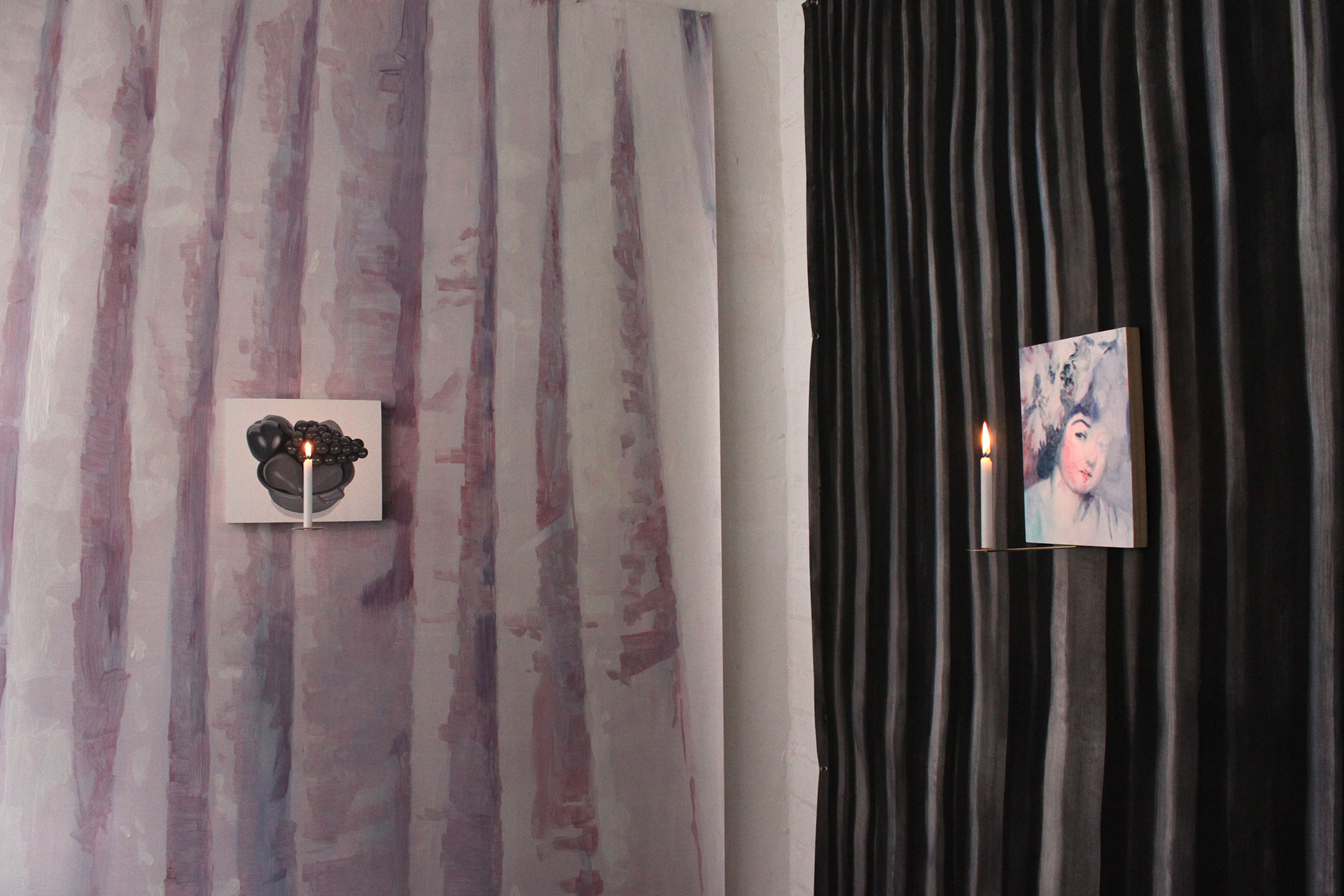 About Casper White
Casper White won the BP Travel Award 2017, for which he created paintings about music fans in clubs and concert venues in Berlin and Mallorca. His works range from powerful portraits on metal to softer scenes on paper, showing sitters lost in the moment and euphoria of dancing and music. Starting with sketches made in situ to capture gestures and mood, White completed the paintings in his studio where he recreated a club environment of disco lights and music. The captivating depictions represent a subculture, often youth-related, that is not traditionally recorded in portrait paintings. Casper White studied fine art at the Cardiff School of Art and Design, and completed a masters at the University of Wales. He lives and works in Cardiff.
About James Moore
Born in Cardiff in 1979, James Moore studied BA(Hons) Fine Art at Manchester School of Art and MA Fine Art at Chelsea College of Art. His most recent solo exhibition was 'Strange Eden' at Oriel Mwldan in 2018. Group exhibitions have included 'Abstract : Reality' and 'Into a Light' at The Saatchi Gallery, RUG in Cardiff, BEEP 2018 in Swansea, 'Twice as Nice' at PS Mirabel in Manchester and 'Like the Lines of a Hand' at Paper Gallery in Manchester. James has exhibited in Y Lle Celf at the National Eisteddfod of Wales on three occasions.