Execute Projects (Texas) and PAPER present 
a two-person exhibition by 
Nishiki Sugawara-Beda & Bartosz Beda
Between the Layers of… is a collaboration between PAPER and Execute Project. Founded in 2019 and located in Mesquite and suburb of Dallas, Texas. Execute Projects is the brainchild of Nishiki Sugawara-Beda and Bartosz Beda and functions as a social network for all people who have an interest in art. The Execute Project also doubles up as a production space for Execute Magazine. Execute Magazine aims to promote both emerging and mid-level career artists.

Between the Layers of… explores the multiple layers present in our society, both visible and invisible. Both Bartosz Beda and Nishiki Sugawara-Beda examine these layers through their separate painting practices. Bartosz explores abstract figuration through deduction, and his paintings explore sculptural surfaces, which reflect on the painting itself. While he navigates in the unfinished form of figuration, Nishiki Sugawara-Beda attempts to offer spiritual landscapes in an organic formation of Japanese Sumi ink on the paper surface.  Both these artists work remains in an unfinished state in order to allow the audience conclude the images through their imagination and involvement.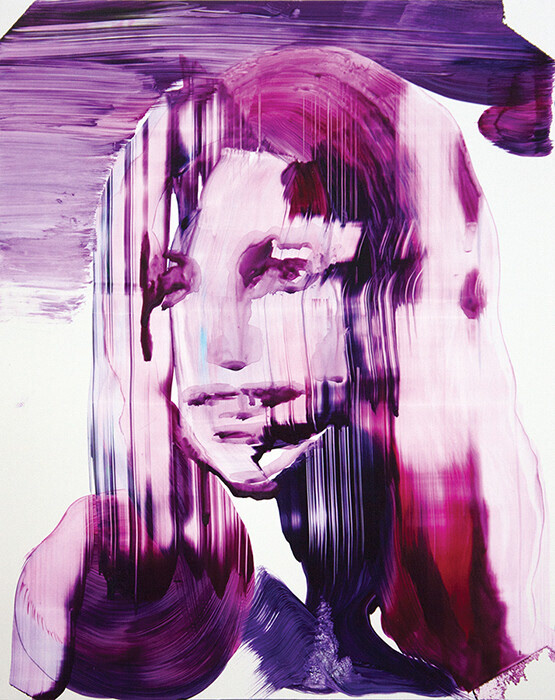 Born in Poland in 1984, Bartosz Beda relocated to the UK in 2008. After graduating with a MA in Fine Art in 2011, he was selected for the 2012 Catlin Art Guide as one of the most promising emerging artists in the UK. In 2012, Beda was short-listed for Saatchi New Sensations, and won the esteemed Towry Award for the Best of North of England as well as a six-month scholarship to Academy of Fine Arts in Dresden, Germany. Beda had solo exhibitions at Galleria Liebre, Spain (2013), BAC Gallery, Colombia (2015), Jackson-Teed, England (2016), Rosemary Duffy Larson Gallery, USA (2017), Mildred M.Cox Gallery, USA (2018), Brownsville Museum, USA (2019), Hopkins Center for the Arts USA (2019), Execute Project, USA (2020). Beda received a fellowship at Fondazione perl'Arte in Rome, Italy (2016) and fellowship at Goggle Center for the Arts (2018).
Beda's art has been widely interviewed and referenced for The Independend, Studio International, Expose Art Magazine, Creative Times, Radcliffe Times, A-N Magazine, Mastars at Axisweb, Arteon Art Magazine, Expose Magazine, Spokesman Review, BuzzFeed, Daily News and featured in The Guardian, The Telegraph and Money Week., NatWest, Inlander. Mentioned on BBC Radio 4 in February 2013 as 'one to watch'. He now lives and works in the United States.
About Nishiki Sugawara-Beda
Nishiki Sugawara-Beda is a visual artist working primarily on painting. She immigrated to the US from Japan as a young adult and earned a BA from Portland State University in 2005 and an MFA from Indiana University in 2010. To speak to the core of humanity, she seeks connections among cultures both from the past and present, focuses on tracing traditional Japanese activities back to their origins through her research.
Sugawara-Beda has exhibited her work through numerous solo and group exhibitions nationally and internationally at commercial and university galleries, art centres, and regional museums. Her works have been shortlisted for various art competitions including the Door Prize (Bristol, England), ArtGemini Prize (London, England), and 7th National Juried Exhibition at Prince Street Gallery (New York). Publications include the 87th New American Paintings, Expose Art Magazine, AEQAI, 100days-100women, and London Post. Awards include a Faculty International Development Award, Seed Grant, Alumni Award for Excellence Mentor, Diversity Fellow Program, International Enhancement Grant, Idaho Art Fellow, University Research Council Research Grant, and Sam Taylor Fellowship have supported her artistic practice. Currently, she is an Assistant Professor of Art at Southern Methodist University in Dallas, Texas.