Semiotic Guerilla Warfare marks a new collaboration between CHARLIE SMITH LONDON and PAPER. The exhibition brings together artists with connections to both galleries creating a network spanning artistic practice between Manchester and London. The exhibition will be split over three parts and presented over the next year. Part II will be in Art Projects at London Art Fair 2016, and Part III will be at Dean Clough Galleries in Halifax.
The artists assembled create artwork from any materials that come to hand; creating a theoretical collage of themes: linguistics, text, the city, psychogeography, found images, appropriation, youth / underground culture, networks, cults / rituals. Exploring popular culture in an attempt to de-value the art object and elevate everyday objects. Semiotic Guerrilla Warfare presents found objects, mass-produced materials, and a lo-fi aesthetics to create a new visual language that comments upon the disposable nature of our culture and society.
The purchase of commodities can be seen to offer a sense of freedom and an escape. By manipulating and appropriating high street fashions youth subcultures create a unique identity and transform themselves into street art. These concepts might be equally applied to artists, who use appropriation in their art to subvert the meaning of the subjects that they transform. This creative use of commodities is exploited for the purpose of resistance, altering the meaning of a chosen mass produced object through the concept of bricolage. This cultural appropriation or theft and transformation of a commodity highlights each of these artists as conspicuous consumers. Dick Hebdige, the subcultural theorist, quoting Umberto Eco, describes these subversive practices as "semiotic guerrilla warfare"; raiding the dominant culture for their trophies. These commodities are desired simply because they are status symbols of the privileged. They are essentially "empty fetishes", desired and appropriated from those that are their antithesis. These artists essentially adopt the lifestyles they appropriate, employing their visual language to subvert the meaning of the very images they incorporate into their work.
The centre piece of the exhibition will be <The Book of Bitumen> by The Cult of RAMM:ΣLL:ZΣΣ, an avant-garde cyber Hip Hop performance art group who conduct participatory lectures, initiation workshops and immersive rituals. They act as a Cargo Cult, reconfiguring specific cultural debris and 'sports///ware' into exoskeletal armour and ceremonial props, used in performance rituals referencing strands of Hip Hop history, pyschogeography, elements of cyberpunk and the Gothic Futurism theory of the late rapper/ graffiti art philosopher, performance artist RAMMELLZEE. The Book Of Bitumen is a residue record from the Cults live street performance rituals conducted at dystopic locations such as The Westway, The Heygate estate, Slough bus terminus, an abandoned Lido in Margate, and the Teufelsberg Radomes, a cold war spy station in Berlin.
Andrea Cotton

's work is about obsession, particularly when born out of boredom or institutionalisation, and the processes in which such circumstances arise. She employs the process of undertaking a monotonous task and the ennui of prison life (witnessed as a teacher within an institution) into pieces of artwork that raise questions and demand a new look at what exactly goes on in such places.

Contraband

reproduces a sign found within the prison meticiously copied in red biro.
Lisa Denyer

's work is a reinterpretation of visual details. 
Denyer is interested in both calculated and unintentional interventions. She uses repurposed materials for aesthetic qualities and for their connotations of transience. Denyer's process incorporates collage, allowing for wide scale experimentation with compositional elements. Her work explores matter, materiality and changing states. 
Pylon

references ideas around modernity whilst also alluding to ruination and antiquity. The abstract nature of the piece renders its symbolism open to interpretation; however, consideration of dystopian narratives and the unattainable or unsustainable is invited.
Zavier Ellis

 combines the use of image and text with painterly, collage, assemblage, drawing and photographic techniques. Language is employed to obfuscate and open new possibilities. Street signs, misspelt graffiti, literature, coded language and obsessed over words are referenced by etching, collaging or painting. Image is used to refer directly or obliquely to Ellis' research topics. The content draws on various intellectual interests, either fleeting or ongoing, including historical events; revolutionary politics; nationalism; art history; myth & magic; religion; and insanity.
Antimony is a pastel goth. She feels black on the inside, but wants to present an outward appearance of something more colourful, more pastel. Antimony questions whether ponies, baby pink, or rainbows can soothe her black satanic heart.
Another description of democracy. Democracy as the basic of a daily, not uncrictical handling of each other. 
Thesis – antithesis, this conflict and the quarrel with each other ideally ends in a solution that is an improvement for all.

Florian 
Heinke

's work points at the impossibility of a peaceful togetherness and our everlasting will to achieve it nonetheless. 
The dedication and the belief in artistic work in general and in contradiction to that the noise of a world that is only interrested in money and less in ideals. A society needs both: the backpedalling, the search for the ideal and to the same extent the protest and the rubbing against to get closer and closer to the ideal.
Phill Hopkins

has a voracious appetite for world news and the situations that we as human beings find ourselves subject to.
He is interested in how we process global images of conflict that we receive into the domestic. Hopkins uses very ordinary materials, often found or bought at the hardware shop. In

Wrapped in Foil (Syria)

, he has added-in other found materials from the floor of his studio.
Hilde Krohn Huse

's

Walking with Mr. Sutcliffe

 is a drawing of a screenshot of a documentary from YouTube on Peter Sutcliffe, Yorkshire Ripper. The content of these documentaries is in stark contrast with the comfort in which she watches them, far from the original content of the image. The image is removed from the tragedy with time and information lost through the process of interviewing. It is then edited to serve the agenda of the documentary makers and further abstracted from the original events, when it is neatly packaged via digital transfer into our homes and personal lives for entertainment. The only hint of the insidious origins, is the black structure in the foreground, surrounding the walking figures as they stroll along the beach. They speak about the 11 victims and the fear that strangled the community at the time, all unbeknownst to the audience who are just watching two people on an idle stroll.
Sam Jackson

's work investigates how a message encoded in one culture and decoded in another entails aberrant decoding, by looking to utillise tactical freedom in the matter of decoding on the content rather than the expression plane of the message. Punk sub –culture/sub-culture is investigated due to the innovation with existing cultural objects and the assignment of new sign-values over old meanings. The work embraces 'poaching' in which the expression-message is redefined and recontextualized but most importantly actually reformulated. Playing with presupposed codes from both ends the work seeks to pull the 'bottom' up to the 'top'. 
Monica Ursina Jäger

's practice revolves around our natural and constructed environment: as real social sites and culturally 
embedded notions of public and private space. Her drawings form a complex cosmos of fictional topographies and combine hope
and downfall: on one hand designers' aspirations, and fantasies, for the future; on the other the dystopia of failure. By re-contextualising those images Jäger investigates customary patterns of perception and attribution, constantly transferring them to new 
Chris Jones' three-dimensional collages are made from the pages of used magazines and encyclopedias. Layers of these everyday images are reconstituted to form phantasmic realities that negotiate the real and the fictional.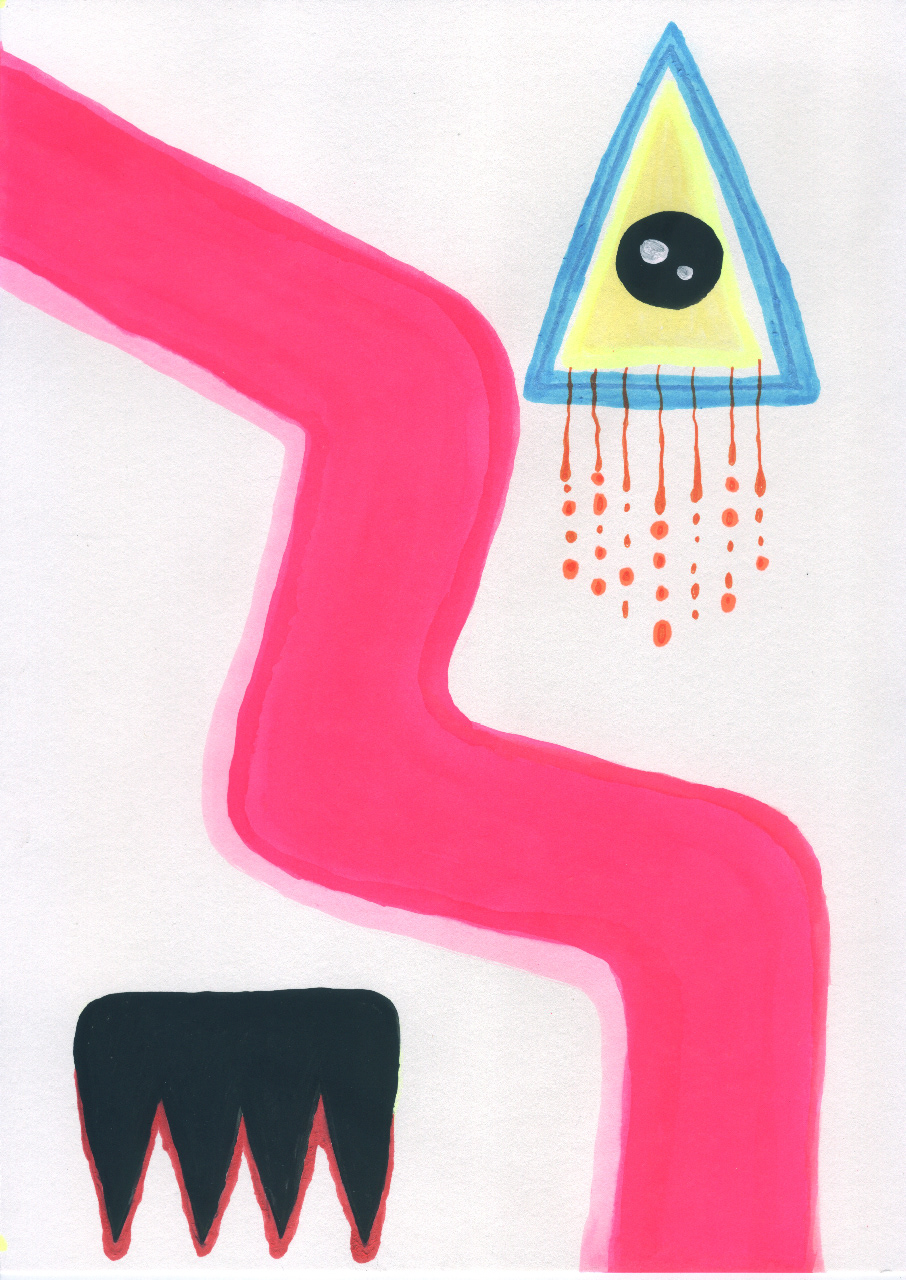 Paintings of totemic abstract forms, skulls, forests and monsters aim to call to mind the primitive and tribal. Signifiers of fire and raw electrical energy relate to thoughts of destruction, transformation and re-animation via elemental forces. Concepts of archetypal elements that abridge modern and primeval man recur in the work. Formalist tropes that were defined by 20th century movements including Suprematism, Vorticism and Abstract Expressionism are absorbed and remixed via obsessions with horror and sci-fi movies; video games; sub cultural design; alternative music and the rhythms of Doom Metal. 
Mitra Saboury

's work investigates the consumption of her body by the environment. Through various media, Saboury fuses the body with elements that reveal the structure of influence on behavior. Her presence is felt as she immerses herself and all senses, confronting physical restrictions and confinements intimately. With 

Inverted Finger

, the function and form of nail and finger are transposed, creating a figure that is both absurd and visceral.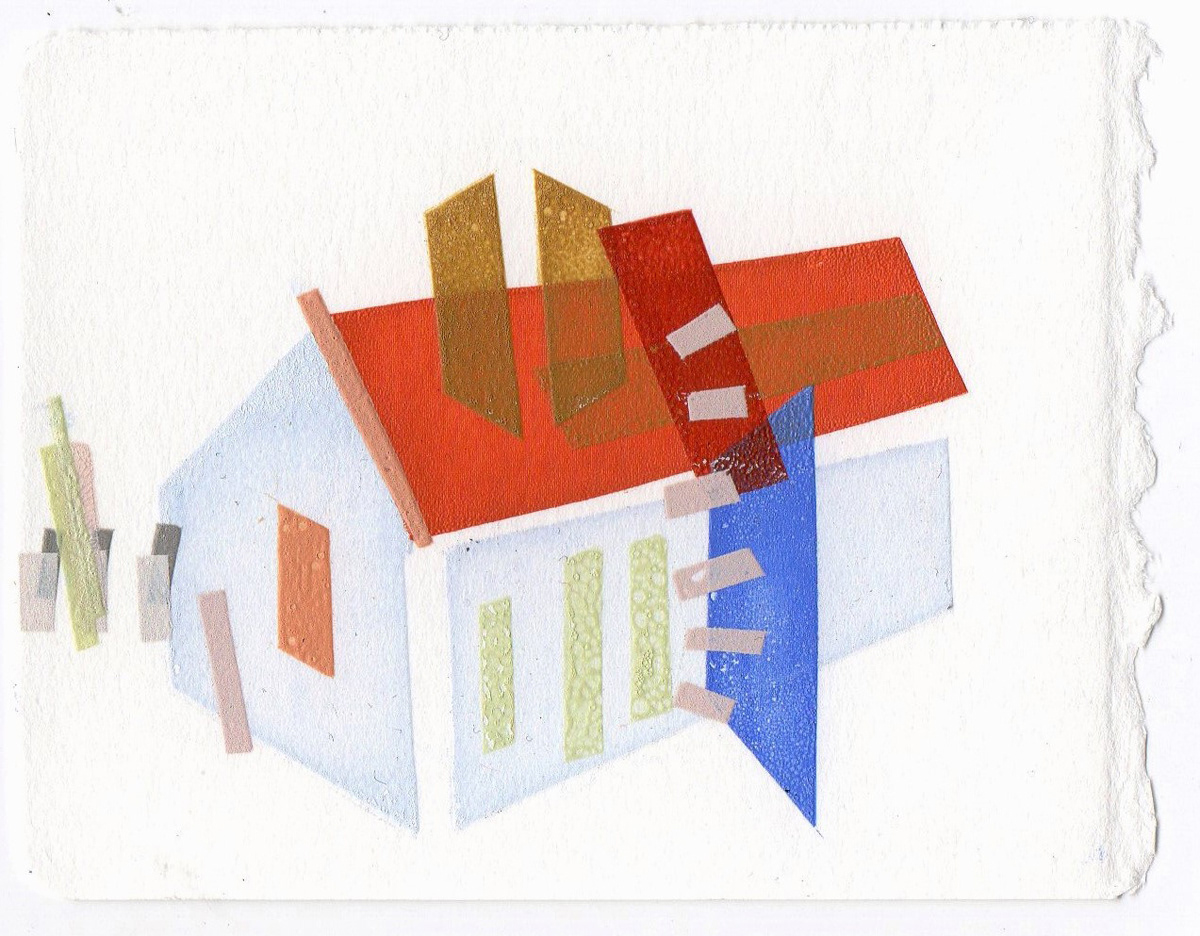 Jenny Steele's practice explores the relationships between our occupation of digital space and physical space, their corresponding architectures, and our suggested movement within these spaces.
With utterly unexpected forms, Zhu Tian challenges and subverts conventions, imagines narratives that are both humorous and poetic, and pertains directly to the horrifying difference between presence and absence. The Tyre Shop: 348 High Road Leyton, is a found street graffiti at the titular address near where the artist lives in East London. It has been discovered, taking out of its context, interpreted, deconstructed then re-constructed and presented to you – secondhand viewers, as a new creation. 
Simon Woolham's work is concerned primarily with occupied spaces and the narratives that unfold in them, in an attempt to unearth and perform unpredictable and fragile processes. Through these glimpses of narrative, the human details, often dilapidated environments come to life in a skint version of enchantment: a tree stump or a broken fence, are filled with the meanings of the events that go on around and about them.
THE CULT OF RAMM:ΣLL:ZΣΣ featuring Yang Younghee
Zavier read History of Modern Art at Manchester University before undertaking a Masters in Fine Art at City & Guilds of London Art School. He has lived and worked in London since 1998. Zavier has exhibited globally alongside contemporary and 20th century luminaries including Peter Blake, Marcus Harvey, Damien Hirst, Robert Rauschenberg, Neal Tait, Antoni Tàpies and Mark Titchner. Recent exhibitions include Museum der Moderne in Salzburg, Torrance Art Museum in California and Paul Stolper Gallery in London. His work is featured in many private collections including the world renowned Peter Nobel Collection, Zurich. Zavier is also a high profile gallerist, curator and publisher.
Hilde Krohn Huse was born in Norway but lives and works in London, UK. Krohn Huse works within the field of narratives; editing, manipulating, twisting and skewing information and narrative content to control the viewers perceptions while also making them aware of the process. Krohn Huse's content usually consists of found material which then comes together in films or collages or text to create an entirely new narrative. Krohn Huse also creates filmed performances which play with the honesty of performance and the deceptive qualities of modern film, creating a conflict with the integrity of the performance.
About Monica Ursina Jäger
Monica Ursina Jäger (born 1974) is a Swiss artist who gained her MA Fine Art at Goldsmiths College and lives and works in 
London and Zurich. She has participated in important group shows and exhibited widely throughout Europe and beyond. Recent exhibition venues include the Kunsthalle Düsseldorf, Haus Konstruktiv Zurich, Kunstmuseum Thun, Essl Museum - Kunst der 
Gegenwart, Arroniz Arte Contemporaneo, Mexico and Galeria Pilar, Sao Paulo among others. Her work is part of many private 
Chris Jones (born 1975 in Preston, UK) lives and works in London and NYC. Forthcoming group show, Asymmetric Dance Class at VITRINE Bermondsey, London (2014). Recent solo exhibitions include: MARC STRAUS, New York, NY (forthcoming), The Engine Room, Preston Bus Station, Preston (2013), Hudson Valley Center for Contemporary Art, Peekskill, NY. Group shows include: 'The Order of Things',  Charlie Smith Gallery, London (2013), 'The Body Metonymic, Oakland University Art Gallery, Rochester MI (2013), 'New Sensations' and 'The Future Can Wait', The Saatchi Gallery and Channel 4, B1, Victoria House, London, England (2013), 'The First Cut: Paper at the Cutting Edge' Manchester Art Gallery, Manchester, England.
Alex Gene Morrison was born in Birmingham in 1975. He studied painting at the Royal College of Art between 2000-2002. After leaving the RCA he was one of the founders of the Rockwell Gallery and Studios in Dalston, London 2002-2007. Morrison works predominantly with painting and video/animation. He had a solo show at Stella Vine's Gallery Rosy Wilde in 2004. He has had solo shows at Rockwell Gallery, London, in 2006 at The Fishmarket Gallery, Northampton, in 2007, Chapter Arts Centre, Cardiff, in 2008 and CHARLIE SMITH LONDON in 2010. His painting was exhibited in the John Moores Painting Prize in Liverpool in 2009. Morrison's work has been shown internationally, from New York to Tokyo. 
Mitra Saboury completed an MFA at Goldsmiths (2013), and a BS in neuroscience at the University of Pittsburgh (2010). Recent solo exhibitions include Touch Everything, Smart Objects, Los Angeles, 2015. Group exhibitions include The London Open, Whitechapel Gallery, 2015; The Future Can Wait, Victoria House, 2014; Jealous Graduate Award, Saatchi Gallery, 2014; Dance like Nobody's Watching, Rhubaba Gallery, 2014. Saboury was awarded the 18th International Open Prize at Woman Made Gallery 2015, International Women's Erotic Art Prize 2014, MAstars Axisweb award 2013, and featured in Edward Lucie-Smith and Zavier Ellis' 100 London Artists in 2014. Future solo exhibitions include Chin's Push, Los Angeles, 2016, and Grand Union, Birmingham, 2016.
Zhu Tian completed her Masters at The Royal College of Art, graduating in 2014. She won the Caitlin Art Prize in 2015 anfd the Broomhill National Sculpture prize in 2014.